ArTEAM 2020

New corporate location in one of Edmonton's most trending areas near the downtown core
Two owner/operating Brokers actively involved in day to day and support
Updated back/office and administration program: Transaction Desk
New industry leading website with future integrated lead generating capabilities
New brokerage fee: $399/deal
Online communication with our Realtors via podcasts, website and social media
RLP Sphere: automated marketing tools and pieces, social media platforms, CRM management, web
Continued Support

24/7 Broker & Manager direct contact and support
Peer to Peer learning Sessions – learn from the bes
Monthly Continued Education Sessions
Admin services: automated listing and transaction upload, transaction conveyancing, monthly internal billing services, answering phone services, managing monthly MLS billings, monthly financial statements, daily commission payouts, modified sign services
Client meeting areas in both locations
Brokerage Umbrella Support by broker/ manager on legal challenges
Team building & culture; Both pre-organized and impromptu events for ArTEAM interaction and trending idea exchange
Awards and Recognition Programs through Corporate and ArTEAM
---
About Transaction Desk

The new updated program Transaction Desk, allows further automation to administration and most importantly allows the Realtors better access to their files. Instead of submitting online PDF's via email to the brokerage, Realtors will submit files directly to Transaction Desk which will now allow them to edit their files, add to them, and know when conveyancing sent to the lawyers has taken place.
---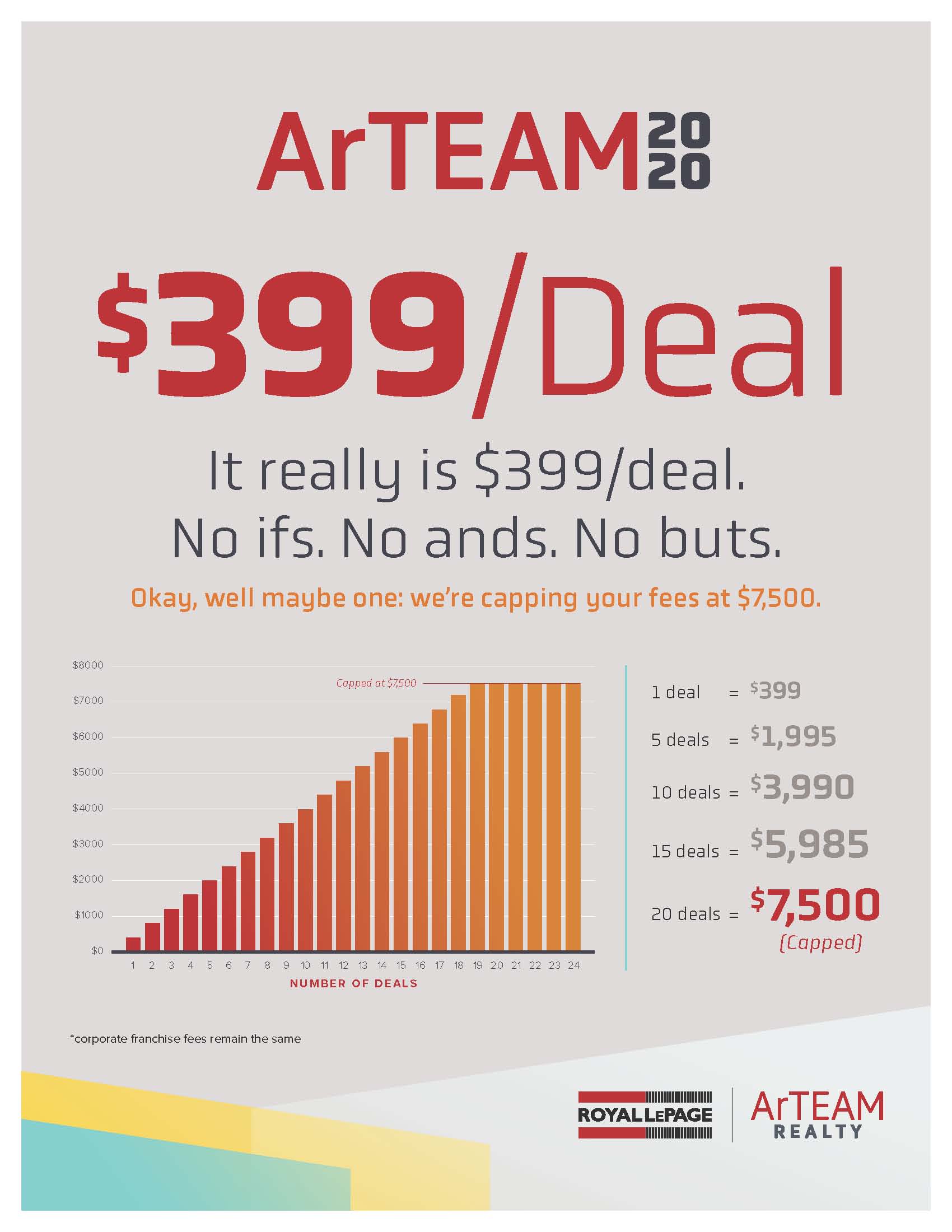 1.
Why is the new fee structure so affordable?
Growth is

essential

. Your commitment to helping us grow is in turn our commitment to reducing your fees.
In order for you to buy into ArTEAM, we need to first buy into you. The industry is changing and we want to evolve with it too. We understand that as entrepreneurs, you enjoy flexibility and control of your workday. We have invested in technology over the years and it has ensured we continue to be leaders. Our efficiencies in processes are now your savings.
Our investments in technology over the years and going forward are your benefit too. Both in your time and in the money you save on brokerage fees.
2.
What do I get for $399?
Essentially, you continue to get everything you get now from ArTEAM. Just the way we deliver our services going forward will be done more efficiently, saving you time and money.
3.
Are there hidden costs?
No, but some services will be a la carte.
A la carte added services:
Lead distribution
Training – Group and Individual
Coaching
Private office month to month rentals
Courier services
4.
Will corporate fees stay the same?
5.
I miss in-person interaction, will I still get to network and meet other realtors?
It's a digital age and we just live in it. Although technological advancements have made us more efficient, we know the value of in-person interaction and how important it is in our industry. Hosting ArTEAM events and impromptu network meet-ups are continuing in 2020 and beyond.
Our doors are always open (literally we're available 24/7), our second location will offer drop-in workspaces and an area to host client meetings.
6.
Why would you offer the savings back to us?
Growth is essential and times are changing. We know, in order to succeed – we must grow and change too. We recognize that how you work and the services you need from your brokerage have changed, and we want to make sure you're only paying for what you need.
Having been in the Real Estate industry for 40+ years, we have worked hard to build a great team and we are committed to being here, with you, 40 years from now. (Well... Art might not be, but definitely Jenna!)